The process is complex, but here is an overview…
I begin by using the technique of Voice Print Profiling: I record your voice with a unidirectional microphone and, through cutting-edge software, I convert your frequencies into numerical data.
Then I calculate your Personal Octave, that is, the 8 frequencies that make up your complete 'vocal anatomy'.
From these numbers and using a scale of 0-1000 Hertz, I create a series of graphs that represent your Vocal Profile.
Here is an example of a Vocal Profile: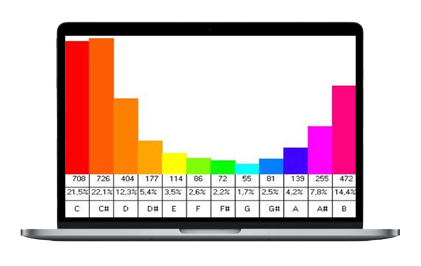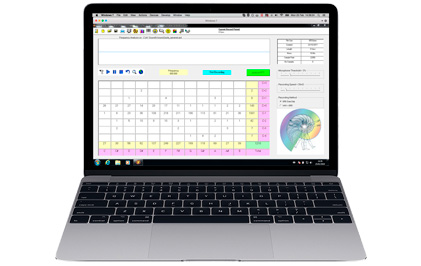 This first graph gives me an overview of your state of balance, which acts as a starting point to allow me to dive deeper into your Vocal Profile with other diagrams and data.
When an individual is at their best, that is their frequencies are in balance, the columns all have the same height.
In most cases, there will be columns that are too high (a symptom of too much strain in that area of your life) and there will be columns that are too low or non-existent (a symptom of a severe deficiency).
In the above example, I can see that:
The G note (G) is very low: this corresponds to depression, apathy and/or passivity.This tells me that this person has likely suffered from one of the aforementioned or is still suffering from it.
The G and the G-sharp (G#) are both low: when this is the case, it indicates digestive problems and dificulty balancing the minerals in the body.
The F (F) and F-sharp (F#) are also low. If this graph depicts the Vocal Profile of a man, this represents problems in his sex life (premature ejaculation, little desire, lack of sexual activity).
The C note (C) and the C sharp (C#) are very high. If this graph depicts a woman's Vocal Profile, it signals a strain in her sex life (there is likely something creating tension, she does not feel at ease). If it is a man's Vocal Profile, it indicates a digestive problem, a propensity for inflammation and difficulty in expressing oneself emotionally (most likely there is also tension in the neck and shoulders).
These are just a few examples.
I also analyse other aspects of your being in the same way, such as self-confidence, your relationships (e.g. a tendancy to 'wear a mask' and please those around you), if there are too many thoughts that prevent you from acting and so on.
By cross referencing this information with the numerical data and some initial questions that I ask you, including your date of birth and that of your family members, I am able to translate them into a precise map of your personality, your imbalances and find the exact experiences or triggers that created them.
This map often leaves the listener speechless, because of its precision and completeness, even in aspects of life that that person has never shared with others.
Through the use of a second software, I then analyse the chemical processes of your body, detecting any imbalance in the organs, cells, bones, muscles and main bodily functions and systems (nervous, hormonal, circulatory, respiratory, endocrine, etc.).
This analysis is based on the scientific discovery of Professor Aldred Partheil: everything in the world has its frequency, and that frequency is directly related to its molecular weight.